Established in 1960 as one of the first laboratory supply companies in South Africa, and has branched out as one of the leading laboratory equipment and analytical instruments to sub-Saharan Africa. Labotec has also partnered with various top brands from across the globe, bringing the best quality brands to empower laboratories and manufacturers all over Southern Africa.
What services do Labotec offer?
On-site service and repairs
In-house service and repairs
Service contracts or preventative service agreements (for specific equipment)
Validation of ESCO Bio-safety cabinets and laminar flow units
Pressure testing and certification of Hirayama autoclaves
Service, Repair and Calibration of Sartorius Balances
Labotec also offers a wide range of glassware products.
Glassware product range available
Beakers
Flasks
Cylinders
Funnels
Tubes
Storage Bottles
Apart from glassware, Labotec is also supplies quality laboratory supplies and scientific equipment such as:

Click here to view Labotec's contact details.
Also see: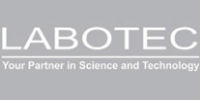 This page was written by Intoweb for Labotec as part of their website marketing strategy. Please contact Labotec for any queries regarding their services.